Précisions sur l'indépendance de l'Archevêché survenue le 30 décembre 1965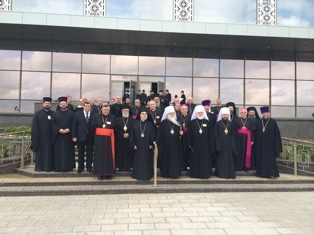 Du 2 au 6 juin 2014, Son Eminence l'Archevêque Job de Telmessos s'est rendu à Minsk (Biélorussie) en tant que conseiller de la délégation du Patriarcat œcuménique au quatrième forum ayant pour thème: « La religion et la diversité culturelle: défis pour les Églises chrétiennes en Europe ». Pendant quatre jours, les évêques orthodoxes et catholiques ont discuté dans un esprit fraternel de questions actuelles tel que la liberté religieuse, les valeurs chrétiennes dans le monde sécularisé et du dialogue interreligieux. A l'issue de leur rencontre, ils ont publié le message suivant:
« 1. The theme, "Religion and cultural diversity: challenges for the Christian Churches in Europe », was chosen in response to a request coming from our communities who feel strongly challenged by the on going cultural and moral shifts in Europe. Over the last twenty years, globalization on the world scale and secularization in European legislation on moral issues have raised questions that call for common answers. Our concern is growing also because we see that the process of estrangement between Europe and its Christian roots seems to be speeding up.
2. Our message wants to be first of all a sign of joy and hope for all those engaged in the mission of the Church. We share the life conditions of all Europeans in this economic and cultural crisis, and we know that many are suffering and are in search of a word that gives sense to their life. Indeed where Christian faith and morality have been dismissed, a feeling of emptiness leads many to despair and nihilism. The Church offers consistent values by incorporating humanity in Christ, the source of all true values. Thus, the Church calls the world to be transformed by prayer, worship and Christian witness.
3. We share with Europeans of today our conviction that Christian faith is the primary source for European culture and morality. Centuries of history witness both in the East and the West the extraordinary richness of cultural achievements in our continent through the contribution of Christian faith. Indeed faith has begotten culture and culture has been constantly challenged by faith. We pay tribute to the Christian heritage of Europe that shaped our worldview and gave moral principles to the peoples of Europe.
4. In their diversity European cultures have all drawn from common Christian roots. As in other cultural contexts, we must recognize that a considerable part of human cultures relies on religious inspiration. Christian anthropology has deeply impacted on European culture. Recognising God as Creator does not annihilate human reason but rather brings it closer to the Truth. Christianity never opposes reason and faith. God is the eternal Reason that creates all that exists. In revealing Himself he has not eliminated but rather has affirmed human intelligence. The highest contribution of Christianity to human history is precisely the alliance between faith and reason that produced the vision of the dignity of each human person, the need for freedom and solidarity, and openness to the mystery of our existence.
5. We stress that Christian faith guarantees rather than takes from our quest for freedom and happiness. Christian faith means total acceptance of Jesus-Christ present in his Church through the Holy Spirit. "For God so loved the world, that he gave his only Son" (John 3:16). Therefore, Christ is not a product of human cultures. As God incarnate, He challenges human history and human cultures. Our Christian Churches bear witness to the coming of Christ as an event in the cultures of our peoples. Faith in Christ does not abolish human diversity. It enriches and promotes the elements of truth and goodness already present in human cultures.
6. Our Christian Churches of the East and the West do not fear cultural diversity. Since its foundation, the Church was culturally pluralistic. There were different cultural approaches among the disciples of Christ, for instance between those who spoke Aramaic and those who spoke Greek. "There are diversities of gifts, but the same Spirit" (1Co 12:4). Christianity proclaims Christ's Gospel in the variety of human cultures.
7. Religious freedom is an essential element of Christian faith. For us religious freedom means the freedom to search for and adhere to the truth. It is based not on the subjective attitude of an individual or a group, but on the transcendent dignity of each human person made for the Absolute, for Truth and for God. Legislation that promote religious indifference, relativism or syncretism even in terms of tolerance tends to reduce to the private sphere a right that is fundamental to the person's dignity. Fostering religious freedom means for Christian Churches entering into ecumenical dialogue without proselytism nor fundamentalism nor moral permissiveness.
8. The contemporary gap between Christianity and main stream mentality has serious consequences for the future of Europe's institutions and life. Today for many Europeans there are no longer stable reference points to shape their moral conduct and appreciate what is right and what is wrong, as they live under the will of the « sovereign autonomous Self ». Individualism leads to moral relativism. There is no consideration for an objective truth nor a common good. The gap between the Churches' view of morality and the main postmodern trends lies in this: we are convinced that moral principles are inscribed by the Creator in the heart of all human beings, while in a postmodern context, morality is what one individually decides. We call on Europeans to recognize that the key to freedom is to accept that we receive ourselves from God, not that we can dispose arbitrarily of everything as if we were our own creators.
There is no opposition between Gospel principles and human values. Christianity means that all that is good and true in humanity is enveloped by the grace of Christ our Saviour. God humbled himself to our humanity not in order to cancel its potentialities, but to heal what was ill and bring our humanity to its perfection.
9. Faith and morality go together; culture and morality as well. We do not forget that the huge progress accomplished in European history in matters of human rights and protection of the weakest come from those principles that Christianity has brought to Europe. As pastors we want to continue to bring the best of our moral teaching to our people and as citizens to present it to our Governments and to the European Institutions. We are convinced that Christian communities are able to act as witnesses of what is good for all as they draw their inspiration from the Gospel of Christ.
In Christ, we find our inspiring source that renews us and brings us to a greater sense of responsibility in Europe and in the world today. »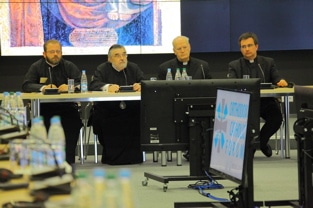 Ce forum était organisé par les Conseil des conférences épiscopales européennes de l'Église catholique romaine et les Églises orthodoxes présentes en Europe, en collaboration de l'Exarchat biélorusse de l'Église orthodoxe de Russie, et fut co-présidé par le Métropolite Gennade de Sassime (Patriarcat œcuménique) et le Cardinal Peter Erdö (Archevêque de Esztergom-Budapest). Les participants furent reçus par le Président de Biélorussie, M. Alexander Lukashenko et accueillis par l'ancien exarque de Biélorussie, le Métropolite Philarète, l'actuel Métropolite Paul de Minsk, et l'Archevêque catholique de Minsk, Mgr Tadeusz Kondrusiewicz.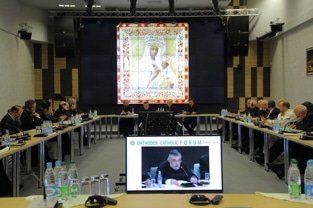 La délégation orthodoxe était composée du Métropolite Gennade de Sassime et du troisième diacre patriarcal Théodore Meïmaris (Patriarcat œcuménique), du Métropolite Hilarion de Volokolamsk (Église de Russie), du Métropolite de Zagreb et Lubliana Porphyre (Église de Serbie), de l'Évêque Silouane d'Italie (Église de Roumanie), du Métropolite Basile de Constantia et Ammochos (Église de Chypre) et du Métropolite Georges de Michajlovtsi. L'Archevêque Job de Telmessos, le Prof. Christos Tsironis, le protopresbytre Constantin Miron, le prêtre Augustin Baïraktaris, l'archiprêtre Vladimir Bashkirov et le Professeur Andej Danilov servait en tant que conseillers de la délégation orthodoxe. La délégation catholique romaine était composée du Cardinal Péter Erdö, du Cardinal Vinko Puljic de Sarajevo, des Archevêques Ronald Minnerath de Dijon, Tadeusz Kondrusiewicz de Minsk, Paolo Pezzi de Russie, Luigi Bressan de Trente et Javier Martinez de Grenade, des Évêques Johan Bonny d'Anvers, Αndres Arborelius de Stockholm, Virgil Bercea d'Arad, Brendan Leahy d'Irlande, Krysztof Nitkiewicz de Sandomierz et Matthias Heinrich de Berlin, de Mgr Duarteda Cunha et des représentants du Vatican, le Nonce Apostolique en Biélorussie Mgr Claudio Gugerotti et le Père Hyacinthe Destivelle.
Des photos peuvent être consultées sur ce lien. Voir également le site du CCEE.